About Us
Agra Cottage is a Indian takeaway in Bingham. Why don't you try our Kathmandu or Pathia?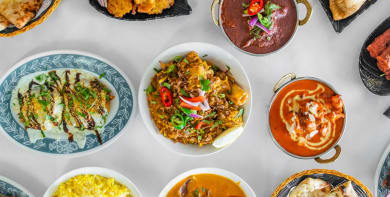 Reviews
268 reviews
Rachael
"Food arrived early, was hot and tasted great. I honestly cannot fault it! This has become our go to Indian take away and would definitely recommend it."
04/07/2020
Benjamin
"Had a great takeaway, arrived hot and early. I really enjoyed it and will get a take out from these guys again. Thanks"
01/07/2020
Julie
"Consistently good food"
30/06/2020
Erika
"Food was great. naan breads were very small for for the price (at least half the size you would Usually expect) so definitely dont order one to share. Other than that food was fab!"
29/06/2020
Menu
Tandoori Mixed Grill
Tandoori chicken, king prawns, chicken tikka, lamb tikka & seekh kebab
£10.50
Tandoori Chicken Main
Half on bone
£8.25
Lamb Tikka Main
Pieces of lamb off the bone
£8.25
Mughlai Chicken Main
Chef's special
£8.95
Chicken Tikka Main
Pieces of chicken off the bone
£8.25
Curry Chicken Tikka
Medium dish cooked with onion & gravy
Medium
£8.95
Curry Lamb Tikka
Medium dish cooked with onion & gravy
Medium
£8.95
Curry Chicken
Medium dish cooked with onion & gravy
Medium
£8.50
Curry Lamb
Medium dish cooked with onion & gravy
Medium
£8.50
Curry Prawn
Medium dish cooked with onion & gravy
Medium
£7.95
Curry King Prawn
Medium dish cooked with onion & gravy
Medium
£12.95
Curry Tandoori Chicken
Medium dish cooked with onion & gravy
Medium
£8.95
Curry Squid
Medium dish cooked with onion & gravy
Medium
£8.95
Curry Vegetable
Medium dish cooked with onion & gravy
Medium
£7.95
Bhuna Chicken Tikka
Medium with onions, tomatoes & coriander
Medium
£8.95
Bhuna Lamb Tikka
Medium with onions, tomatoes & coriander
Medium
£8.95
Bhuna Chicken
Medium with onions, tomatoes & coriander
Medium
£8.50
Bhuna Lamb
Medium with onions, tomatoes & coriander
Medium
£8.50
Bhuna Prawn
Medium with onions, tomatoes & coriander
Medium
£7.95
Bhuna King Prawn
Medium with onions, tomatoes & coriander
Medium
£12.95
Bhuna Tandoori Chicken
Medium with onions, tomatoes & coriander
Medium
£8.95
Bhuna Squid
Medium with onions, tomatoes & coriander
Medium
£8.95
Bhuna Vegetable
Medium with onions, tomatoes & coriander
Medium
£7.95
Madras Chicken Tikka
Hot curry
Hot
£8.95
Madras Lamb Tikka
Hot curry
Hot
£8.95
Madras Chicken
Hot curry
Hot
£8.50
Madras Lamb
Hot curry
Hot
£8.50
Madras Prawn
Hot curry
Hot
£7.95
Madras King Prawn
Hot curry
Hot
£12.95
Madras Tandoori Chicken
Hot curry
Hot
£8.95
Madras Squid
Hot curry
Hot
£8.95
Madras Vegetable
Hot curry
Hot
£7.95
Vindaloo Chicken Tikka
Very hot curry with pieces of potato
Very hot
£8.95
Vindaloo Lamb Tikka
Very hot curry with pieces of potato
Very hot
£8.95
Vindaloo Chicken
Very hot curry with pieces of potato
Very hot
£8.50
Vindaloo Lamb
Very hot curry with pieces of potato
Very hot
£8.50
Vindaloo Prawn
Very hot curry with pieces of potato
Very hot
£7.95
Vindaloo King Prawn
Very hot curry with pieces of potato
Very hot
£12.95
Vindaloo Tandoori Chicken
Very hot curry with pieces of potato
Very hot
£8.95
Vindaloo Squid
Very hot curry with pieces of potato
Very hot
£8.95
Vindaloo Vegetable
Very hot curry with pieces of potato
Very hot
£7.95
Dansak Chicken Tikka
Sweet & sour dish with lentils & pineapple
Medium
£8.95
Dansak Lamb Tikka
Sweet & sour dish with lentils & pineapple
Medium
£8.95
Dansak Chicken
Sweet & sour dish with lentils & pineapple
Medium
£8.50
Dansak Lamb
Sweet & sour dish with lentils & pineapple
Medium
£8.50
Dansak Prawn
Sweet & sour dish with lentils & pineapple
Medium
£7.95
Dansak King Prawn
Sweet & sour dish with lentils & pineapple
Medium
£12.95
Dansak Tandoori Chicken
Sweet & sour dish with lentils & pineapple
Medium
£8.95
Dansak Squid
Sweet & sour dish with lentils & pineapple
Medium
£8.95
Dansak Vegetable
Sweet & sour dish with lentils & pineapple
Medium
£7.95
Korma Chicken Tikka
Mild & creamy with coconut & almond
May contain nuts
£8.95
Korma Lamb Tikka
Mild & creamy with coconut & almond
May contain nuts
£8.95
Korma Chicken
Mild & creamy with coconut & almond
May contain nuts
£8.50
Korma Lamb
Mild & creamy with coconut & almond
May contain nuts
£8.50
Korma Prawn
Mild & creamy with coconut & almond
May contain nuts
£7.95
Korma King Prawn
Mild & creamy with coconut & almond
May contain nuts
£12.95
Korma Tandoori Chicken
Mild & creamy with coconut & almond
May contain nuts
£8.95
Korma Squid
Mild & creamy with coconut & almond
May contain nuts
£8.95
Korma Vegetable
Mild & creamy with coconut & almond
May contain nuts
£7.95
Rogan Josh Chicken Tikka
Cooked with lots of garlic & tomatoes
Medium
£8.95
Rogan Josh Lamb Tikka
Cooked with lots of garlic & tomatoes
Medium
£8.95
Rogan Josh Chicken
Cooked with lots of garlic & tomatoes
Medium
£8.50
Rogan Josh Lamb
Cooked with lots of garlic & tomatoes
Medium
£8.50
Rogan Josh Prawn
Cooked with lots of garlic & tomatoes
Medium
£7.95
Rogan Josh King Prawn
Cooked with lots of garlic & tomatoes
Medium
£12.95
Rogan Josh Tandoori Chicken
Cooked with lots of garlic & tomatoes
Medium
£8.95
Rogan Josh Squid
Cooked with lots of garlic & tomatoes
Medium
£8.95
Rogan Josh Vegetable
Cooked with lots of garlic & tomatoes
Medium
£7.95
Pathia Chicken Tikka
Medium hot dish flavoured sweet & sour
Medium
£8.95
Pathia Lamb Tikka
Medium hot dish flavoured sweet & sour
Medium
£8.95
Pathia Chicken
Medium hot dish flavoured sweet & sour
Medium
£8.50
Pathia Lamb
Medium hot dish flavoured sweet & sour
Medium
£8.50
Pathia Prawn
Medium hot dish flavoured sweet & sour
Medium
£7.95
Pathia King Prawn
Medium hot dish flavoured sweet & sour
Medium
£12.95
Pathia Tandoori Chicken
Medium hot dish flavoured sweet & sour
Medium
£8.95
Pathia Squid
Medium hot dish flavoured sweet & sour
Medium
£8.95
Pathia Vegetable
Medium hot dish flavoured sweet & sour
Medium
£7.95
Dopiaza Chicken Tikka
Medium dish with lots of onion & garlic
Medium
£8.95
Dopiaza Lamb Tikka
Medium dish with lots of onion & garlic
Medium
£8.95
Dopiaza Chicken
Medium dish with lots of onion & garlic
Medium
£8.50
Dopiaza Lamb
Medium dish with lots of onion & garlic
Medium
£8.50
Dopiaza Prawn
Medium dish with lots of onion & garlic
Medium
£7.95
Dopiaza King Prawn
Medium dish with lots of onion & garlic
Medium
£12.95
Dopiaza Tandoori Chicken
Medium dish with lots of onion & garlic
Medium
£8.95
Dopiaza Squid
Medium dish with lots of onion & garlic
Medium
£8.95
Dopiaza Vegetable
Medium dish with lots of onion & garlic
Medium
£7.95
Imli Chicken
Sweet & spicy, cooked with tamarind sauce
£4.20
Chicken Kombi
With mushrooms, medium
£4.50
Mughlai Chicken Starter
Chef's special, dry
£4.25
Tandoori King Prawn Starter
£5.95
Moja Jinga Sangam
King prawn & mango sauce
£5.95
Mini King Prawn Pakora (4 Pieces)
£4.95
Set Meal A For 2 Persons
2 poppadoms & pickle tray
1 vegetable samosa
1 chicken tikka
1 lamb bhuna
1 chicken tikka masala
1 mushroom bhaji (side dish)
1 pilau rice
1 naan
1 bottle of soft drink
£29.50
Set Meal A For 4 Persons
2 poppadoms & pickle tray
1 vegetable samosa
1 chicken tikka
1 lamb bhuna
1 chicken tikka masala
1 mushroom bhaji (side dish)
1 pilau rice
1 naan
1 bottle of soft drink
£55.00
Set Meal B For 2 Persons
2 poppadoms & pickle tray
1 chicken shashlik
1 seekh kebab
1 jhinga masala
1 chicken karahi
1 Bombay aloo (side dish)
1 pilau rice
1 naan
1 bottle of soft drink
£30.95
Set Meal B For 4 Persons
2 poppadoms & pickle tray
1 chicken shashlik
1 seekh kebab
1 jhinga masala
1 chicken karahi
1 Bombay aloo (side dish)
1 pilau rice
1 naan
1 bottle of soft drink
£58.00
Vegetarian Set Meal For 2 Persons
2 poppadoms & pickle tray
1 vegetable samosa
1 vegetable pakora
1 mixed vegetable bhuna
1 saag aloo
1 tarka daal (side dish)
1 rice
1 naan
1 bottle of soft drink
£25.00
Vegetarian Set Meal For 4 Persons
2 poppadoms & pickle tray
1 vegetable samosa
1 vegetable pakora
1 mixed vegetable bhuna
1 saag aloo
1 tarka daal (side dish)
1 rice
1 naan
1 bottle of soft drink
£45.00
Chicken Tikka Biryani
Medium
£9.50
King Prawn Biryani
Medium
£10.95
Duck Tikka Biryani
Medium
£10.95
Special Tray (For 1 Person)
Chicken tikka (2), lamb tikka (2), vegetable pakora (2) & accompanied with chef's special sweet & sour shashlick sauce
£4.20
Special Tray (For 2 Persons)
Chicken tikka (3), lamb tikka (3), vegetable pakora (4) & accompanied with chef's special sweet & sour shashlick sauce
£6.95
Mixed Kebab
Chicken & lamb tikka, seekh kebab
£4.95
Karahi Chicken Tikka
Medium
£8.95
Gobi Paneer
Cauliflower & Indian cheese
Medium
£3.95
Aloo Chana
Potato & chickpeas
Medium
£3.95
Aloo Gobi
Potato & cauliflower
Medium
£3.95
Brinjal Bhaji
Aubergine
Medium
£3.95
Mushroom Aloo
Potato
Medium
£3.95
Mottor Paneer
Indian cheese & peas
Medium
£3.95
Mixed Vegetable Bhaji
Medium
£3.95
Mixed Vegetable Curry
Medium
£3.95
Tarka Daal
Lentils with garlic
Medium
£3.95
Saag Aloo
Spinach & potatoes
Medium
£3.95
Saag Bhaji
Spinach
Medium
£3.95
Saag Paneer
Indian cheese & spinach
Medium
£3.95
Raita
Onion & cucumber
Medium
£2.50
Agra Special Mix Bhuna
Chicken & lamb tikka, tandoori king prawn, off the bone tandoori chicken, combined with onions, chilli peppers & a special selection of spices to form a truly special dish
Medium
£10.95
Agra Special Balti
Mixed barbecued meat (chicken tikka, lamb tikka, sheek kebab & tandoori tikka) cooked with green pepper, tomato, onions & served with special naan
Medium
£12.95
Garlic Chilli Chicken Tikka
Cooked with fresh garlic, dozens of green spices producing a medium hot dish
Hot
£9.95
Garlic Chilli Lamb Tikka
Cooked with fresh garlic, dozens of green spices producing a medium hot dish
Hot
£9.95
Garlic Chilli Tender Lamb
Cooked with fresh garlic, dozens of green spices producing a medium hot dish
Hot
£9.95
Garlic Chilli King Prawn
Cooked with fresh garlic, dozens of green spices producing a medium hot dish
Hot
£12.95
Murgi Masala
Off the bone tandoori chicken cooked with minced meat with lots of green herbs, medium dish
Medium
£9.95
Bengal Labra Chicken Tikka
Chicken tikka, spinach & chick peas cooked with lots of garlic, turmeric & coriander
Medium
£9.95
Bengal Labra Lamb Tikka
Chicken tikka, spinach & chick peas cooked with lots of garlic, turmeric & coriander
Medium
£9.95
Bengal Labra Tender Lamb
Chicken tikka, spinach & chick peas cooked with lots of garlic, turmeric & coriander
Medium
£9.95
Tawa Chicken Tikka
Specially cooked with garam masala, tomatoes, onion rings & butter. Served in a cast iron tawa. Medium in strength
Medium
£9.95
Tawa Lamb Tikka
Specially cooked with garam masala, tomatoes, onion rings & butter. Served in a cast iron tawa. Medium in strength
Medium
£9.95
Tawa Tender Lamb
Specially cooked with garam masala, tomatoes, onion rings & butter. Served in a cast iron tawa. Medium in strength
Medium
£9.95
Tawa Tandoori King Prawn
Specially cooked with garam masala, tomatoes, onion rings & butter. Served in a cast iron tawa. Medium in strength
Medium
£12.95
King Prawn Sag
King prawn & spinach cooked in a special medium strength spicy sauce
Medium
£12.95
Jhinga Masala
King prawn stuffed with garlic & ginger, baked in a clay oven & then cooked with garlic, onions, chilli pepper & tomatoes, creating a thick, spicy curry
Medium
£12.95
Bengali Special Fish Bhuna
Cubes of fish cooked with garlic & a mixture of spices & onions to form a medium hot curry
Medium
£10.95
Agra Speciality
A mixture of chicken tikka, lamb tikka, sheek kebab served on top of a bed of rice, garnished with salad & accompanied with masala sauce to make a meal of it's own
£11.50
Tandoori Mixed Shashlik Chicken Tikka
Chicken tikka, lamb tikka, sheek kebab, king prawn or tandoori chicken prepared with onion & capsicum & cooked with special spicy sauce
£10.95
Tandoori Mixed Shashlik Lamb Tikka
Chicken tikka, lamb tikka, sheek kebab, king prawn or tandoori chicken prepared with onion & capsicum & cooked with special spicy sauce
£10.95
Tandoori Mixed Shashlik Sheek Kebab
Chicken tikka, lamb tikka, sheek kebab, king prawn or tandoori chicken prepared with onion & capsicum & cooked with special spicy sauce
£10.95
Tandoori Mixed Shashlik King Prawn
Chicken tikka, lamb tikka, sheek kebab, king prawn or tandoori chicken prepared with onion & capsicum & cooked with special spicy sauce
£10.95
Tandoori Mixed Shashlik Tandoori Chicken
Chicken tikka, lamb tikka, sheek kebab, king prawn or tandoori chicken prepared with onion & capsicum & cooked with special spicy sauce
£10.95
Tandoori Mixed Korai
Chicken tikka, lamb tikka, tandoori chicken & king prawn cooked in fairly hot sauce with chopped peppers, onion & tomatoes
Medium
£10.95
Pasanda Chicken Tikka
Creamy dish cooked with ginger strips, ground almond, garam masala & garnished with crushed pistachios & cream
May contain nuts
£9.95
Pasanda Lamb Tikka
Creamy dish cooked with ginger strips, ground almond, garam masala & garnished with crushed pistachios & cream
May contain nuts
£9.95
Pasanda Tender Lamb
Creamy dish cooked with ginger strips, ground almond, garam masala & garnished with crushed pistachios & cream
May contain nuts
£9.95
Makhani Chicken Tikka
A mild & creamy dish cooked with ground almonds & mint to form a distinctive taste
May contain nuts
£9.95
Makhani Lamb Tikka
A mild & creamy dish cooked with ground almonds & mint to form a distinctive taste
May contain nuts
£9.95
Makhani Tender Lamb
A mild & creamy dish cooked with ground almonds & mint to form a distinctive taste
May contain nuts
£9.95
Jalfrezi Chicken Tikka
Cooked with green chillies, peppers & onions in a fairly hot sauce
Hot
£9.95
Jalfrezi Lamb Tikka
Cooked with green chillies, peppers & onions in a fairly hot sauce
Hot
£9.95
Jalfrezi Tender Lamb
Cooked with green chillies, peppers & onions in a fairly hot sauce
Hot
£9.95
Jalfrezi King Prawn
Cooked with green chillies, peppers & onions in a fairly hot sauce
Hot
£12.95
Silsila Chicken
Diced chicken or lamb marinated in a special blend of spices then cooked with onions, green peppers, chillies & tomatoes. Served on a sizzling platter & garnished with fresh coriander
Medium
£9.95
Silsila Lamb
Diced chicken or lamb marinated in a special blend of spices then cooked with onions, green peppers, chillies & tomatoes. Served on a sizzling platter & garnished with fresh coriander
Medium
£9.95
Naga Chicken Tikka
A fairly hot dish cooked in a sauce consisting of aromatic & exotic chillies
Hot
£9.95
Naga Lamb Tikka
A fairly hot dish cooked in a sauce consisting of aromatic & exotic chillies
Hot
£9.95
Naga Tender Lamb
A fairly hot dish cooked in a sauce consisting of aromatic & exotic chillies
Hot
£9.95
Saag Chicken Tikka
Cooked with spinach & tomato, fresh coriander. Medium strength
Medium
£9.95
Saag Lamb Tikka
Cooked with spinach & tomato, fresh coriander. Medium strength
Medium
£9.95
Saag Tender Lamb
Cooked with spinach & tomato, fresh coriander. Medium strength
Medium
£9.95
Chingri Sizzler
Shell on king prawn cooked with green chillies, green peppers, tomatoes & onions then garnished with coriander & served on a sizzling platter. Fairly hot
Hot
£12.95
Indian Tribuji
Medium dish of chicken tikka, lamb tikka & duck tikka cooked with fresh onion, coriander, tomato & chef's special thick sauce
Medium
£11.95
Tandoori Mixed Bahar Chicken Tikka
Chicken tikka, lamb tikka, sheek kebab, king prawn or tandoori chicken prepared with onion & cooked in a creamy, mild sauce
May contain nuts
£10.95
Tandoori Mixed Bahar Lamb Tikka
Chicken tikka, lamb tikka, sheek kebab, king prawn or tandoori chicken prepared with onion & cooked in a creamy, mild sauce
May contain nuts
£10.95
Tandoori Mixed Bahar Sheek Kebab
Chicken tikka, lamb tikka, sheek kebab, king prawn or tandoori chicken prepared with onion & cooked in a creamy, mild sauce
May contain nuts
£10.95
Tandoori Mixed Bahar King Prawn
Chicken tikka, lamb tikka, sheek kebab, king prawn or tandoori chicken prepared with onion & cooked in a creamy, mild sauce
May contain nuts
£10.95
Tandoori Mixed Bahar Tandoori Chicken
Chicken tikka, lamb tikka, sheek kebab, king prawn or tandoori chicken prepared with onion & cooked in a creamy, mild sauce
May contain nuts
£10.95
Duck Tikka Kazana
Cooked with onion, tomato, bay leaf to form a special thick sauce
Medium
£10.95
Crispy Chicken
Slices of chicken tikka fried with green pepper, onion & fresh chilli
Medium
£10.95
Shahi Jalfrezi Chicken Tikka
Cooked in a hot & creamy sauce using green chilli & fresh cream
Hot
May contain nuts
£9.95
Shahi Jalfrezi Lamb Tikka
Cooked in a hot & creamy sauce using green chilli & fresh cream
Hot
May contain nuts
£9.95
Shahi Jalfrezi Tender Lamb
Cooked in a hot & creamy sauce using green chilli & fresh cream
Hot
May contain nuts
£9.95
Monkfish Bhuna
A medium dish cooked with monkfish fillets, tomato, onion & coriander in chef's specially made homestyle sauce
Medium
£11.95
Shahi Mix Korma
A selection of chicken tikka, lamb tikka, sheek kebab & tandoori chicken slow cooked in a creamy, mild sauce
May contain nuts
£10.95
Mango Chicken Tikka
A sweet & sour dish cooked with fresh mango slices in chef's special sauce
£9.95
Mango Lamb Tikka
A sweet & sour dish cooked with fresh mango slices in chef's special sauce
£9.95
Mango Tender Lamb
A sweet & sour dish cooked with fresh mango slices in chef's special sauce
£9.95
Dhaka (Medium) Chicken
Cooked with onions, tomatoes, coriander, bay leaves, various herbs in a home style thick sauce
Medium
£9.95
Dhaka (Medium) Lamb
Cooked with onions, tomatoes, coriander, bay leaves, various herbs in a home style thick sauce
Medium
£9.95
Dhaka (Hot) Chicken
Cooked with onions, tomatoes, coriander, bay leaves, various herbs in a home style thick sauce
Hot
£9.95
Dhaka (Hot) Lamb
Cooked with onions, tomatoes, coriander, bay leaves, various herbs in a home style thick sauce
Hot
£9.95
Anarkoli Chicken Tikka
A medium dish with onion, tomato, coriander & topped with freshly fried garlic in an home cooked Indian style
Medium
£9.95
Anarkoli Lamb Tikka
A medium dish with onion, tomato, coriander & topped with freshly fried garlic in an home cooked Indian style
Medium
£9.95
Handhi Chicken
Cooked with onion, green peppers, herbs & spices & fresh coriander producing a medium dish
Medium
£9.95
Handhi Lamb
Cooked with onion, green peppers, herbs & spices & fresh coriander producing a medium dish
Medium
£9.95
Achari Chicken
Cooked in a medium strength sauce with mango or lime pickle
Medium
£9.95
Achari Lamb
Cooked in a medium strength sauce with mango or lime pickle
Medium
£9.95
Seafood Fish Mix Curry
A mix of prawn, king prawn, squid & fish cooked with coriander, onion & tomato in a medium spicy sauce
£11.95
Salmon Fish Rezotti
Fillets of salmon cooked with herbs, spices, garlic, ginger, tomato & onions in a medium dish
Medium
£11.95
Podina Chicken Tikka
Cooked with onions, tomato, coriander & fresh garden mint
Medium
£9.95
Podina Lamb Tikka
Cooked with onions, tomato, coriander & fresh garden mint
Medium
£9.95
Podina Tender Lamb
Cooked with onions, tomato, coriander & fresh garden mint
Medium
£9.95
Kathmandu Chicken
Cooked with green peppers, onions, green chilli & chips to give a slightly hot dry dish. Served with a separate curry sauce
£9.95
Kathmandu Lamb
Cooked with green peppers, onions, green chilli & chips to give a slightly hot dry dish. Served with a separate curry sauce
£9.95
Bayan Chicken Tikka
A medium curry cooked with chicken tikka or lamb tikka, tomato, pepper & chef's special sauce. Finally topped with fried potato strips
£9.95
Bayan Lamb Tikka
A medium curry cooked with chicken tikka or lamb tikka, tomato, pepper & chef's special sauce. Finally topped with fried potato strips
£9.95
Chicken Sylhet
Bhuna style curry cooked with fresh chilli & the aromatic naga chilli pickle
Hot
£9.95
Chicken Rezala
Tandoori chicken off the bone with minced meat & naga pickle
Hot
£9.95
Masala Chicken Tikka
May contain nuts
£9.95
Masala Chicken Tikka Butter
May contain nuts
£9.95
Masala Chicken Tikka Cheese
May contain nuts
£9.95
Masala Duck Tikka
May contain nuts
£11.95
Masala Lamb Tikka
May contain nuts
£9.95
Masala Salmon Fish Tikka
May contain nuts
£11.95
Masala Squid
May contain nuts
£10.95
Masala Tandoori Chicken (Off the Bone)
May contain nuts
£9.95
Masala Tandoori King Prawn
May contain nuts
£12.95
Masala Vegetable
May contain nuts
£8.95
Chicken & Mushroom Omelette
£8.50
Special Fried Rice
Egg & garden peas
£3.50
Balti Chicken Mushroom
Medium
£9.95
Balti Chicken Saag
Medium
£9.95
Balti Chicken Tikka
Medium
£9.95
Balti Chicken Tikka Saag
Medium
£9.95
Balti Lamb Tikka Saag
Medium
£9.95
Balti Tandoori Chicken
Medium
£9.95
Spicy Onion Bhaji (2 Pieces)
Spicy onion bhaji with green chilli
Hot
£3.95
Vegetable Samosa (2 Pieces)
£3.50
Peshwari Naan
Fruity
May contain nuts
£2.95
Special Naan
Keema, chicken tikka & cheese
£3.50
Contact Us
Find Us
33 Long Acre, Bingham, NG138AF
We deliver to
NG12, NG13, NG14, NG2, NG23, NG25, NG3, NG4