About Us
Agra Cottage is a Indian takeaway in Bingham. Why don't you try our Kathmandu or Pathia?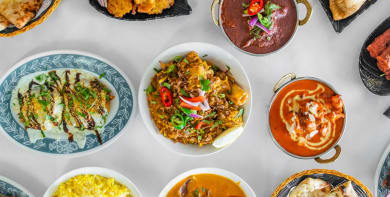 Reviews
308 reviews
Maxwell
"As always from Agra, a very lovely meal overall. However, the lamb starter was tough and over cooked."
26/10/2020
Peter
"Excellent, food warm, perfect in all respects. Thankyoui"
24/10/2020
Julie
"Consistently good food, with lovely depth and spice"
13/10/2020
Laura
"Food was great. Nicely cooked and plenty of it. Asked for it ASAP, turned up 10 minutes earlier than expected which was a bonus. Have ordered before and will continue to order, never disappointed!"
07/10/2020
Menu
Tandoori Mixed Grill
Tandoori chicken, king prawns, chicken tikka, lamb tikka & seekh kebab
£10.50
Tandoori Chicken Main
Half on bone
£8.25
Lamb Tikka Main
Pieces of lamb off the bone
£8.25
Mughlai Chicken Main
Chef's special
£8.95
Chicken Tikka Main
Pieces of chicken off the bone
£8.25
Curry Chicken Tikka
Medium dish cooked with onion & gravy
Medium
£8.95
Curry Lamb Tikka
Medium dish cooked with onion & gravy
Medium
£8.95
Curry Chicken
Medium dish cooked with onion & gravy
Medium
£8.50
Curry Lamb
Medium dish cooked with onion & gravy
Medium
£8.50
Curry Prawn
Medium dish cooked with onion & gravy
Medium
£7.95
Curry King Prawn
Medium dish cooked with onion & gravy
Medium
£12.95
Curry Tandoori Chicken
Medium dish cooked with onion & gravy
Medium
£8.95
Curry Squid
Medium dish cooked with onion & gravy
Medium
£8.95
Curry Vegetable
Medium dish cooked with onion & gravy
Medium
£7.95
Bhuna Chicken Tikka
Medium with onions, tomatoes & coriander
Medium
£8.95
Bhuna Lamb Tikka
Medium with onions, tomatoes & coriander
Medium
£8.95
Bhuna Chicken
Medium with onions, tomatoes & coriander
Medium
£8.50
Bhuna Lamb
Medium with onions, tomatoes & coriander
Medium
£8.50
Bhuna Prawn
Medium with onions, tomatoes & coriander
Medium
£7.95
Bhuna King Prawn
Medium with onions, tomatoes & coriander
Medium
£12.95
Bhuna Tandoori Chicken
Medium with onions, tomatoes & coriander
Medium
£8.95
Bhuna Squid
Medium with onions, tomatoes & coriander
Medium
£8.95
Bhuna Vegetable
Medium with onions, tomatoes & coriander
Medium
£7.95
Madras Chicken Tikka
Hot curry
Hot
£8.95
Madras Lamb Tikka
Hot curry
Hot
£8.95
Madras Chicken
Hot curry
Hot
£8.50
Madras Lamb
Hot curry
Hot
£8.50
Madras Prawn
Hot curry
Hot
£7.95
Madras King Prawn
Hot curry
Hot
£12.95
Madras Tandoori Chicken
Hot curry
Hot
£8.95
Madras Squid
Hot curry
Hot
£8.95
Madras Vegetable
Hot curry
Hot
£7.95
Vindaloo Chicken Tikka
Very hot curry with pieces of potato
Very hot
£8.95
Vindaloo Lamb Tikka
Very hot curry with pieces of potato
Very hot
£8.95
Vindaloo Chicken
Very hot curry with pieces of potato
Very hot
£8.50
Vindaloo Lamb
Very hot curry with pieces of potato
Very hot
£8.50
Vindaloo Prawn
Very hot curry with pieces of potato
Very hot
£7.95
Vindaloo King Prawn
Very hot curry with pieces of potato
Very hot
£12.95
Vindaloo Tandoori Chicken
Very hot curry with pieces of potato
Very hot
£8.95
Vindaloo Squid
Very hot curry with pieces of potato
Very hot
£8.95
Vindaloo Vegetable
Very hot curry with pieces of potato
Very hot
£7.95
Dansak Chicken Tikka
Sweet & sour dish with lentils & pineapple
Medium
£8.95
Dansak Lamb Tikka
Sweet & sour dish with lentils & pineapple
Medium
£8.95
Dansak Chicken
Sweet & sour dish with lentils & pineapple
Medium
£8.50
Dansak Lamb
Sweet & sour dish with lentils & pineapple
Medium
£8.50
Dansak Prawn
Sweet & sour dish with lentils & pineapple
Medium
£7.95
Dansak King Prawn
Sweet & sour dish with lentils & pineapple
Medium
£12.95
Dansak Tandoori Chicken
Sweet & sour dish with lentils & pineapple
Medium
£8.95
Dansak Squid
Sweet & sour dish with lentils & pineapple
Medium
£8.95
Dansak Vegetable
Sweet & sour dish with lentils & pineapple
Medium
£7.95
Korma Chicken Tikka
Mild & creamy with coconut & almond
May contain nuts
£8.95
Korma Lamb Tikka
Mild & creamy with coconut & almond
May contain nuts
£8.95
Korma Chicken
Mild & creamy with coconut & almond
May contain nuts
£8.50
Korma Lamb
Mild & creamy with coconut & almond
May contain nuts
£8.50
Korma Prawn
Mild & creamy with coconut & almond
May contain nuts
£7.95
Korma King Prawn
Mild & creamy with coconut & almond
May contain nuts
£12.95
Korma Tandoori Chicken
Mild & creamy with coconut & almond
May contain nuts
£8.95
Korma Squid
Mild & creamy with coconut & almond
May contain nuts
£8.95
Korma Vegetable
Mild & creamy with coconut & almond
May contain nuts
£7.95
Rogan Josh Chicken Tikka
Cooked with lots of garlic & tomatoes
Medium
£8.95
Rogan Josh Lamb Tikka
Cooked with lots of garlic & tomatoes
Medium
£8.95
Rogan Josh Chicken
Cooked with lots of garlic & tomatoes
Medium
£8.50
Rogan Josh Lamb
Cooked with lots of garlic & tomatoes
Medium
£8.50
Rogan Josh Prawn
Cooked with lots of garlic & tomatoes
Medium
£7.95
Rogan Josh King Prawn
Cooked with lots of garlic & tomatoes
Medium
£12.95
Rogan Josh Tandoori Chicken
Cooked with lots of garlic & tomatoes
Medium
£8.95
Rogan Josh Squid
Cooked with lots of garlic & tomatoes
Medium
£8.95
Rogan Josh Vegetable
Cooked with lots of garlic & tomatoes
Medium
£7.95
Pathia Chicken Tikka
Medium hot dish flavoured sweet & sour
Medium
£8.95
Pathia Lamb Tikka
Medium hot dish flavoured sweet & sour
Medium
£8.95
Pathia Chicken
Medium hot dish flavoured sweet & sour
Medium
£8.50
Pathia Lamb
Medium hot dish flavoured sweet & sour
Medium
£8.50
Pathia Prawn
Medium hot dish flavoured sweet & sour
Medium
£7.95
Pathia King Prawn
Medium hot dish flavoured sweet & sour
Medium
£12.95
Pathia Tandoori Chicken
Medium hot dish flavoured sweet & sour
Medium
£8.95
Pathia Squid
Medium hot dish flavoured sweet & sour
Medium
£8.95
Pathia Vegetable
Medium hot dish flavoured sweet & sour
Medium
£7.95
Dopiaza Chicken Tikka
Medium dish with lots of onion & garlic
Medium
£8.95
Dopiaza Lamb Tikka
Medium dish with lots of onion & garlic
Medium
£8.95
Dopiaza Chicken
Medium dish with lots of onion & garlic
Medium
£8.50
Dopiaza Lamb
Medium dish with lots of onion & garlic
Medium
£8.50
Dopiaza Prawn
Medium dish with lots of onion & garlic
Medium
£7.95
Dopiaza King Prawn
Medium dish with lots of onion & garlic
Medium
£12.95
Dopiaza Tandoori Chicken
Medium dish with lots of onion & garlic
Medium
£8.95
Dopiaza Squid
Medium dish with lots of onion & garlic
Medium
£8.95
Dopiaza Vegetable
Medium dish with lots of onion & garlic
Medium
£7.95
Imli Chicken
Sweet & spicy, cooked with tamarind sauce
£4.20
Chicken Kombi
With mushrooms, medium
£4.50
Mughlai Chicken Starter
Chef's special, dry
£4.25
Tandoori King Prawn Starter
£5.95
Moja Jinga Sangam
King prawn & mango sauce
£5.95
Mini King Prawn Pakora (4 Pieces)
£4.95
Set Meal A For 2 Persons
2 poppadoms & pickle tray
1 vegetable samosa
1 chicken tikka
1 lamb bhuna
1 chicken tikka masala
1 mushroom bhaji (side dish)
1 pilau rice
1 naan
1 bottle of soft drink
£29.50
Set Meal A For 4 Persons
2 poppadoms & pickle tray
1 vegetable samosa
1 chicken tikka
1 lamb bhuna
1 chicken tikka masala
1 mushroom bhaji (side dish)
1 pilau rice
1 naan
1 bottle of soft drink
£55.00
Set Meal B For 2 Persons
2 poppadoms & pickle tray
1 chicken shashlik
1 seekh kebab
1 jhinga masala
1 chicken karahi
1 Bombay aloo (side dish)
1 pilau rice
1 naan
1 bottle of soft drink
£30.95
Set Meal B For 4 Persons
2 poppadoms & pickle tray
1 chicken shashlik
1 seekh kebab
1 jhinga masala
1 chicken karahi
1 Bombay aloo (side dish)
1 pilau rice
1 naan
1 bottle of soft drink
£58.00
Vegetarian Set Meal For 2 Persons
2 poppadoms & pickle tray
1 vegetable samosa
1 vegetable pakora
1 mixed vegetable bhuna
1 saag aloo
1 tarka daal (side dish)
1 rice
1 naan
1 bottle of soft drink
£25.00
Vegetarian Set Meal For 4 Persons
2 poppadoms & pickle tray
1 vegetable samosa
1 vegetable pakora
1 mixed vegetable bhuna
1 saag aloo
1 tarka daal (side dish)
1 rice
1 naan
1 bottle of soft drink
£45.00
Chicken Tikka Biryani
Medium
£9.50
King Prawn Biryani
Medium
£10.95
Duck Tikka Biryani
Medium
£10.95
Special Tray (For 1 Person)
Chicken tikka (2), lamb tikka (2), vegetable pakora (2) & accompanied with chef's special sweet & sour shashlick sauce
£4.20
Special Tray (For 2 Persons)
Chicken tikka (3), lamb tikka (3), vegetable pakora (4) & accompanied with chef's special sweet & sour shashlick sauce
£6.95
Mixed Kebab
Chicken & lamb tikka, seekh kebab
£4.95
Karahi Chicken Tikka
Medium
£8.95
Gobi Paneer
Cauliflower & Indian cheese
Medium
£3.95
Aloo Chana
Potato & chickpeas
Medium
£3.95
Aloo Gobi
Potato & cauliflower
Medium
£3.95
Brinjal Bhaji
Aubergine
Medium
£3.95
Mushroom Aloo
Potato
Medium
£3.95
Mottor Paneer
Indian cheese & peas
Medium
£3.95
Mixed Vegetable Bhaji
Medium
£3.95
Mixed Vegetable Curry
Medium
£3.95
Tarka Daal
Lentils with garlic
Medium
£3.95
Saag Aloo
Spinach & potatoes
Medium
£3.95
Saag Bhaji
Spinach
Medium
£3.95
Saag Paneer
Indian cheese & spinach
Medium
£3.95
Raita
Onion & cucumber
Medium
£2.50
Agra Special Mix Bhuna
Chicken & lamb tikka, tandoori king prawn, off the bone tandoori chicken, combined with onions, chilli peppers & a special selection of spices to form a truly special dish
Medium
£10.95
Agra Special Balti
Mixed barbecued meat (chicken tikka, lamb tikka, sheek kebab & tandoori tikka) cooked with green pepper, tomato, onions & served with special naan
Medium
£12.95
Garlic Chilli Chicken Tikka
Cooked with fresh garlic, dozens of green spices producing a medium hot dish
Hot
£9.95
Garlic Chilli Lamb Tikka
Cooked with fresh garlic, dozens of green spices producing a medium hot dish
Hot
£9.95
Garlic Chilli Tender Lamb
Cooked with fresh garlic, dozens of green spices producing a medium hot dish
Hot
£9.95
Garlic Chilli King Prawn
Cooked with fresh garlic, dozens of green spices producing a medium hot dish
Hot
£12.95
Murgi Masala
Off the bone tandoori chicken cooked with minced meat with lots of green herbs, medium dish
Medium
£9.95
Bengal Labra Chicken Tikka
Chicken tikka, spinach & chick peas cooked with lots of garlic, turmeric & coriander
Medium
£9.95
Bengal Labra Lamb Tikka
Chicken tikka, spinach & chick peas cooked with lots of garlic, turmeric & coriander
Medium
£9.95
Bengal Labra Tender Lamb
Chicken tikka, spinach & chick peas cooked with lots of garlic, turmeric & coriander
Medium
£9.95
Tawa Chicken Tikka
Specially cooked with garam masala, tomatoes, onion rings & butter. Served in a cast iron tawa. Medium in strength
Medium
£9.95
Tawa Lamb Tikka
Specially cooked with garam masala, tomatoes, onion rings & butter. Served in a cast iron tawa. Medium in strength
Medium
£9.95
Tawa Tender Lamb
Specially cooked with garam masala, tomatoes, onion rings & butter. Served in a cast iron tawa. Medium in strength
Medium
£9.95
Tawa Tandoori King Prawn
Specially cooked with garam masala, tomatoes, onion rings & butter. Served in a cast iron tawa. Medium in strength
Medium
£12.95
King Prawn Sag
King prawn & spinach cooked in a special medium strength spicy sauce
Medium
£12.95
Jhinga Masala
King prawn stuffed with garlic & ginger, baked in a clay oven & then cooked with garlic, onions, chilli pepper & tomatoes, creating a thick, spicy curry
Medium
£12.95
Bengali Special Fish Bhuna
Cubes of fish cooked with garlic & a mixture of spices & onions to form a medium hot curry
Medium
£10.95
Agra Speciality
A mixture of chicken tikka, lamb tikka, sheek kebab served on top of a bed of rice, garnished with salad & accompanied with masala sauce to make a meal of it's own
£11.50
Tandoori Mixed Shashlik Chicken Tikka
Chicken tikka, lamb tikka, sheek kebab, king prawn or tandoori chicken prepared with onion & capsicum & cooked with special spicy sauce
£10.95
Tandoori Mixed Shashlik Lamb Tikka
Chicken tikka, lamb tikka, sheek kebab, king prawn or tandoori chicken prepared with onion & capsicum & cooked with special spicy sauce
£10.95
Tandoori Mixed Shashlik Sheek Kebab
Chicken tikka, lamb tikka, sheek kebab, king prawn or tandoori chicken prepared with onion & capsicum & cooked with special spicy sauce
£10.95
Tandoori Mixed Shashlik King Prawn
Chicken tikka, lamb tikka, sheek kebab, king prawn or tandoori chicken prepared with onion & capsicum & cooked with special spicy sauce
£10.95
Tandoori Mixed Shashlik Tandoori Chicken
Chicken tikka, lamb tikka, sheek kebab, king prawn or tandoori chicken prepared with onion & capsicum & cooked with special spicy sauce
£10.95
Tandoori Mixed Korai
Chicken tikka, lamb tikka, tandoori chicken & king prawn cooked in fairly hot sauce with chopped peppers, onion & tomatoes
Medium
£10.95
Pasanda Chicken Tikka
Creamy dish cooked with ginger strips, ground almond, garam masala & garnished with crushed pistachios & cream
May contain nuts
£9.95
Pasanda Lamb Tikka
Creamy dish cooked with ginger strips, ground almond, garam masala & garnished with crushed pistachios & cream
May contain nuts
£9.95
Pasanda Tender Lamb
Creamy dish cooked with ginger strips, ground almond, garam masala & garnished with crushed pistachios & cream
May contain nuts
£9.95
Makhani Chicken Tikka
A mild & creamy dish cooked with ground almonds & mint to form a distinctive taste
May contain nuts
£9.95
Makhani Lamb Tikka
A mild & creamy dish cooked with ground almonds & mint to form a distinctive taste
May contain nuts
£9.95
Makhani Tender Lamb
A mild & creamy dish cooked with ground almonds & mint to form a distinctive taste
May contain nuts
£9.95
Jalfrezi Chicken Tikka
Cooked with green chillies, peppers & onions in a fairly hot sauce
Hot
£9.95
Jalfrezi Lamb Tikka
Cooked with green chillies, peppers & onions in a fairly hot sauce
Hot
£9.95
Jalfrezi Tender Lamb
Cooked with green chillies, peppers & onions in a fairly hot sauce
Hot
£9.95
Jalfrezi King Prawn
Cooked with green chillies, peppers & onions in a fairly hot sauce
Hot
£12.95
Silsila Chicken
Diced chicken or lamb marinated in a special blend of spices then cooked with onions, green peppers, chillies & tomatoes. Served on a sizzling platter & garnished with fresh coriander
Medium
£9.95
Silsila Lamb
Diced chicken or lamb marinated in a special blend of spices then cooked with onions, green peppers, chillies & tomatoes. Served on a sizzling platter & garnished with fresh coriander
Medium
£9.95
Naga Chicken Tikka
A fairly hot dish cooked in a sauce consisting of aromatic & exotic chillies
Hot
£9.95
Naga Lamb Tikka
A fairly hot dish cooked in a sauce consisting of aromatic & exotic chillies
Hot
£9.95
Naga Tender Lamb
A fairly hot dish cooked in a sauce consisting of aromatic & exotic chillies
Hot
£9.95
Saag Chicken Tikka
Cooked with spinach & tomato, fresh coriander. Medium strength
Medium
£9.95
Saag Lamb Tikka
Cooked with spinach & tomato, fresh coriander. Medium strength
Medium
£9.95
Saag Tender Lamb
Cooked with spinach & tomato, fresh coriander. Medium strength
Medium
£9.95
Chingri Sizzler
Shell on king prawn cooked with green chillies, green peppers, tomatoes & onions then garnished with coriander & served on a sizzling platter. Fairly hot
Hot
£12.95
Indian Tribuji
Medium dish of chicken tikka, lamb tikka & duck tikka cooked with fresh onion, coriander, tomato & chef's special thick sauce
Medium
£11.95
Tandoori Mixed Bahar Chicken Tikka
Chicken tikka, lamb tikka, sheek kebab, king prawn or tandoori chicken prepared with onion & cooked in a creamy, mild sauce
May contain nuts
£10.95
Tandoori Mixed Bahar Lamb Tikka
Chicken tikka, lamb tikka, sheek kebab, king prawn or tandoori chicken prepared with onion & cooked in a creamy, mild sauce
May contain nuts
£10.95
Tandoori Mixed Bahar Sheek Kebab
Chicken tikka, lamb tikka, sheek kebab, king prawn or tandoori chicken prepared with onion & cooked in a creamy, mild sauce
May contain nuts
£10.95
Tandoori Mixed Bahar King Prawn
Chicken tikka, lamb tikka, sheek kebab, king prawn or tandoori chicken prepared with onion & cooked in a creamy, mild sauce
May contain nuts
£10.95
Tandoori Mixed Bahar Tandoori Chicken
Chicken tikka, lamb tikka, sheek kebab, king prawn or tandoori chicken prepared with onion & cooked in a creamy, mild sauce
May contain nuts
£10.95
Duck Tikka Kazana
Cooked with onion, tomato, bay leaf to form a special thick sauce
Medium
£10.95
Crispy Chicken
Slices of chicken tikka fried with green pepper, onion & fresh chilli
Medium
£10.95
Shahi Jalfrezi Chicken Tikka
Cooked in a hot & creamy sauce using green chilli & fresh cream
Hot
May contain nuts
£9.95
Shahi Jalfrezi Lamb Tikka
Cooked in a hot & creamy sauce using green chilli & fresh cream
Hot
May contain nuts
£9.95
Shahi Jalfrezi Tender Lamb
Cooked in a hot & creamy sauce using green chilli & fresh cream
Hot
May contain nuts
£9.95
Monkfish Bhuna
A medium dish cooked with monkfish fillets, tomato, onion & coriander in chef's specially made homestyle sauce
Medium
£11.95
Shahi Mix Korma
A selection of chicken tikka, lamb tikka, sheek kebab & tandoori chicken slow cooked in a creamy, mild sauce
May contain nuts
£10.95
Mango Chicken Tikka
A sweet & sour dish cooked with fresh mango slices in chef's special sauce
£9.95
Mango Lamb Tikka
A sweet & sour dish cooked with fresh mango slices in chef's special sauce
£9.95
Mango Tender Lamb
A sweet & sour dish cooked with fresh mango slices in chef's special sauce
£9.95
Dhaka (Medium) Chicken
Cooked with onions, tomatoes, coriander, bay leaves, various herbs in a home style thick sauce
Medium
£9.95
Dhaka (Medium) Lamb
Cooked with onions, tomatoes, coriander, bay leaves, various herbs in a home style thick sauce
Medium
£9.95
Dhaka (Hot) Chicken
Cooked with onions, tomatoes, coriander, bay leaves, various herbs in a home style thick sauce
Hot
£9.95
Dhaka (Hot) Lamb
Cooked with onions, tomatoes, coriander, bay leaves, various herbs in a home style thick sauce
Hot
£9.95
Anarkoli Chicken Tikka
A medium dish with onion, tomato, coriander & topped with freshly fried garlic in an home cooked Indian style
Medium
£9.95
Anarkoli Lamb Tikka
A medium dish with onion, tomato, coriander & topped with freshly fried garlic in an home cooked Indian style
Medium
£9.95
Handhi Chicken
Cooked with onion, green peppers, herbs & spices & fresh coriander producing a medium dish
Medium
£9.95
Handhi Lamb
Cooked with onion, green peppers, herbs & spices & fresh coriander producing a medium dish
Medium
£9.95
Achari Chicken
Cooked in a medium strength sauce with mango or lime pickle
Medium
£9.95
Achari Lamb
Cooked in a medium strength sauce with mango or lime pickle
Medium
£9.95
Seafood Fish Mix Curry
A mix of prawn, king prawn, squid & fish cooked with coriander, onion & tomato in a medium spicy sauce
£11.95
Salmon Fish Rezotti
Fillets of salmon cooked with herbs, spices, garlic, ginger, tomato & onions in a medium dish
Medium
£11.95
Podina Chicken Tikka
Cooked with onions, tomato, coriander & fresh garden mint
Medium
£9.95
Podina Lamb Tikka
Cooked with onions, tomato, coriander & fresh garden mint
Medium
£9.95
Podina Tender Lamb
Cooked with onions, tomato, coriander & fresh garden mint
Medium
£9.95
Kathmandu Chicken
Cooked with green peppers, onions, green chilli & chips to give a slightly hot dry dish. Served with a separate curry sauce
£9.95
Kathmandu Lamb
Cooked with green peppers, onions, green chilli & chips to give a slightly hot dry dish. Served with a separate curry sauce
£9.95
Bayan Chicken Tikka
A medium curry cooked with chicken tikka or lamb tikka, tomato, pepper & chef's special sauce. Finally topped with fried potato strips
£9.95
Bayan Lamb Tikka
A medium curry cooked with chicken tikka or lamb tikka, tomato, pepper & chef's special sauce. Finally topped with fried potato strips
£9.95
Chicken Sylhet
Bhuna style curry cooked with fresh chilli & the aromatic naga chilli pickle
Hot
£9.95
Chicken Rezala
Tandoori chicken off the bone with minced meat & naga pickle
Hot
£9.95
Masala Chicken Tikka
May contain nuts
£9.95
Masala Chicken Tikka Butter
May contain nuts
£9.95
Masala Chicken Tikka Cheese
May contain nuts
£9.95
Masala Duck Tikka
May contain nuts
£11.95
Masala Lamb Tikka
May contain nuts
£9.95
Masala Salmon Fish Tikka
May contain nuts
£11.95
Masala Squid
May contain nuts
£10.95
Masala Tandoori Chicken (Off the Bone)
May contain nuts
£9.95
Masala Tandoori King Prawn
May contain nuts
£12.95
Masala Vegetable
May contain nuts
£8.95
Chicken & Mushroom Omelette
£8.50
Special Fried Rice
Egg & garden peas
£3.50
Balti Chicken Mushroom
Medium
£9.95
Balti Chicken Saag
Medium
£9.95
Balti Chicken Tikka
Medium
£9.95
Balti Chicken Tikka Saag
Medium
£9.95
Balti Lamb Tikka Saag
Medium
£9.95
Balti Tandoori Chicken
Medium
£9.95
Spicy Onion Bhaji (2 Pieces)
Spicy onion bhaji with green chilli
Hot
£3.95
Vegetable Samosa (2 Pieces)
£3.50
Peshwari Naan
Fruity
May contain nuts
£2.95
Special Naan
Keema, chicken tikka & cheese
£3.50
Contact Us
Find Us
33 Long Acre, Bingham, NG138AF
We deliver to
NG12, NG13, NG14, NG2, NG23, NG25, NG3, NG4